January 2007
Dear Ministry Partners,
I just returned from a recent ministry trip to Cameroon, Africa, to help ordain 200 new ministers of the gospel. I would like to share photos and highlights with you this month. Cameroon is on the west coast of Africa just above the equator, and is a country moving towards revival. Africa as a whole has had some areas of a real move of God in recent years. The ministerial association that I hold ordination credentials with, World Ministry Fellowship (WMF), began organizing WMF of Africa in 1999. WMF there has grown to have members in 16 African countries now. They have had African national conventions the last 4 years. They only ordained 9 ministers 4 years ago, about 50 new ministers last year, but now about 200 ministers this year from 10 African nations.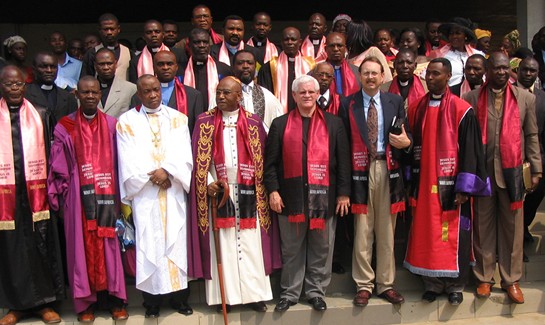 I did teachings on various leadership topics during the day sessions to these 200 ministers waiting for ordination. Charles Rogers also taught on various topics related to the Holy Spirit. Charles is the International Director for WMF and has been organizing and developing WMF membership in the major world continents. Charles has been in ministry almost 50 years, and hired Kenneth Copeland when he was an unknown young man to sing in the evangelistic meetings which Charles was conducting. Charles later ordained Kenneth into the ministry.
Cameroon was under German and French influence during the last 150 years, and only in recent decades won full independence from the colonial powers. The French background, as well as the Muslim influence (35% of the population) and native tribal witchcraft kept Cameroon fairly closed to the true gospel over the years.
Some key men of God have paid a great price in their work to spread the gospel in Cameroon. Their labor has been instrumental in seeing growth in the Kingdom of God. I would like to highlight a couple of men as examples to inspire you to greater commitment for the Lord.
Jean Assala was 18 years old in 1961 when he got saved in the capitol city of Yaounde. (He is fourth to my right in the ordination photograph.) About 3 months later, Jesus appeared to him. Jesus told Jean to stand up for Him and begin pastoring the 15 other believers in Yaounde, which today has a population of over 1 million people. Jean began boldly witnessing for Jesus and riding a bike with scriptures painted on it as a witness. He saw many miracles such as blind eyes opened and deaf ears healed. Jean was arrested for the gospel more times than he can remember, once receiving 50 lashes, once 150 lashes, and once 300 lashes. Nothing could stop him in his service for the Lord. He has established 17 churches and currently oversees a group of 10 pastors. He bought the land for each of the churches with his own personal funds and donated the parcels to each congregation. He is now widely recognized as an apostle and is greatly respected for his life and ministry. He has started a small Christian school and has been wanting to create Christian medical clinics in rural areas.
When I was meeting with Apostle Assala, the Lord spoke to me to raise the funds to print a book about his life. At age 63, he deserves recognition for his work for the Lord, and his testimony of commitment will inspire many Christians in Cameroon and greater Africa. I am inviting believers to contribute so we can have the book written in the native French language of Cameroon and print an initial 1,000 copies to have distributed around the region.
Another key leader in Africa is Bishop Floribert Mawit in Cameroon. (He is third to my right in the ordination photograph.) He came as a "missionary" from his native Congo to start a church in Douala, Cameroon, in 1993. His family had to stay behind due to the large expense of moving, and he has only been able to travel back to see his family about once every 3 months due to the cost involved. He has built an independent Spirit-filled church of about 400 members in Douala (which is large for Cameroon). He is the WMF Director for all of Africa. He is now 52 years old and believing God for the funds to move his family to Cameroon to live with him. If any one with the means feels led by the Spirit, they can contact me for more information about re-uniting Bishop Mawit's family with him in Douala.
Cameroon is a poor third-world country filled with gracious people. They just don't have much money. Jesus died for these people like everyone else, and ministry there is just as important as any other nation. With the African work of WMF centered there in Cameroon, revival can spread in Africa as we help fan the flames by doing our part. Judi and I have needs too, but we wanted to focus this month on helping others in a strategic way. Anything extra you can do financially at year-end will be appreciated, and put to work for the gospel.
Ministering for Jesus,
Dale & Judi Leander