September, 2000
Dear Ministry Friends,
On April 4th, 1943, twenty-five B-24 bombers of the 376th Bomb Group took off from their World War II air force base at Soluch, Libya, in North Africa, for a high-altitude bombing attack against harbor facilities at Naples, Italy. This was part of the Allied invasion of Italy. All the planes but one returned safely to Allied territory that night. The one which was missing was number 64, nick-named the Lady Be Good. Because they flew under strict orders for radio silence, there was no communication with the lost plane to know what happened to it.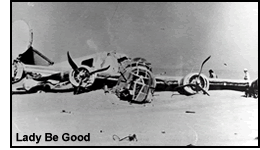 Almost 16 years later on November 9th, 1958, several British geologists were flying over the desolate, sun-baked Libyan desert. At about 400 miles south of Soluch, they spotted an aircraft on the sand. A ground party which reached the site in March, 1959, discovered the plane to be a B-24. The Lady Be Good had been found.
Evidence at the site, and a diary found later on the body of one of the crew, indicated that the pilots had been watching an instrument known as an ADF (automatic direction finder) to find their way to their base while flying back south over the Mediterranean Sea. The needle of the ADF pointed at a strong radio signal, originating from their air force base, which would lead them safely home in the dark. However, when the ADF needle swung around and pointed behind them more than an hour before they were due to arrive at their base, they concluded that their ADF instrument had malfunctioned. So they kept pressing on southward hoping they would somehow find their airfield.
The facts turned out that the ADF instrument was working perfectly (proved later by testing the unit removed from the wreckage of the plane). There had been a very strong tailwind that night which had simply pushed the plane southward to their base much sooner than they expected. So they didn't believe they had arrived and they flew on in the dark, hoping for the best.
As their fuel supply became depleted, the nine men aboard had bailed out over the Libyan desert 442 miles past their base. But they had disappeared while attempting to walk northward back to civilization. Intensive searches were made for clues as to the fate of the crew. In 1960 the remains of eight were found, one near the plane and the other seven far to the north. Five had trekked 78 miles across the torturing sand and heat before perishing — and one had gone an amazing 109 miles in the blistering daytime 135 degree desert temperatures. In addition, they had lived eight days rather than only two or three expected of men in this area with little or no water. The body of the ninth man was never found.
There is a powerful spiritual lesson we can draw from the sacrifice of the lives of these men. As Christians, we are all "flying our way through life." And we all have something very special to direct and guide us regardless of the outside circumstances, darkness, or confusion that has seemed to surround us at times. This special instrument that we have and should always trust is the Word of God. It will never lead us astray, deceive us, or fail. It always points to the way we should go, and it will not only take care of us in this life — but also lead us safely home to Heaven someday if we do not stop following its directions.
However, we must give this "special instrument of guidance" our continued attention. We must always trust its instructions and change course whenever it points out we are not in line with its readings. We should never wander on, hoping that somehow we can find our way better than our "special direction finder" is telling us. And even if a man or woman is not reading their Bible on a regular basis, God will go the extra mile to try to rescue them by having preachers and teachers give messages from the Word through various avenues and media.
Hebrews 2:1 says, "Therefore we must give the more earnest heed to the things we have heard, lest we drift away." Too many Christian have "drifted away" from their faith and the instructions of the Bible. The "school of hard-knocks" and the "heat from the problems of life" will drive many back to what they once knew was true, but unfortunately many will "perish in the wilderness" of life without ongoing obedience to God.
Proverbs 16:25 says, "There is a way that seems right to a man, but in the end it leads to death." We should not trust what seems best to our senses. The Bible teaches us right from wrong, but the world tries to imply that our instructions from the Bible are too narrow. Our modern culture is full of situational ethics, excuses to sin, and "political correctness" that says anything is correct except for applied Christianity. But Jesus affirmed the narrow view is the correct view. "Enter by the narrow gate; for wide is the gate and broad is the way that leads to destruction, and there are many who go in by it. Because narrow is the gate and difficult is the way which leads to life, and there are few who find it." (Matthew 7:13-14).
Sometimes other people try to persuade us to "not trust our instruments." Sometimes it is peer pressure, sometimes it is false doctrine, sometimes it is just simple temptation to sin. But these temptations to do or believe something that is wrong — are all just opportunities to get off course. And I have read that if you are flying a distance of 3,000 miles, being off course just one degree will cause you to miss your target by almost 30 miles! Satan doesn't have to get everyone to fall for "big disobedience" because Song of Solomon 2:15 says it is "the little foxes that ruin the vineyards."
In reality, the devil often pressures people to change, compromise, back off, or otherwise yield in the direction they are going for God. If he can get us to just change one degree from what God wants for our lives, we will feel we are getting farther and farther from God as time goes on. This is one reason that explains why many people have felt so distant in their relationship with God. They compromised years ago, and now the "distance" is growing more and more significant — and they can feel it. The voice of God seems fainter and fainter.
If people discover that they have "over-shot" the target of living their daily life according to the Bible and God's will, they should do everything possible to try to get back to the safety of obedience to the Word. The Spirit of God will never lead contrary to the written Word of God. No amount of perseverance is too much to try to get back to where we need to be. What we stand to gain or lose is too great. And we can get back — all things are possible with God.
I want to encourage you to keep studying and trusting God's Word. It will never fail you (Isaiah 40:8). It is impossible for God to lie (Hebrews 6:18), and God never fails (Zephaniah 3:5). So be encouraged — and keep studying and following God's Word!
Staying on Course,
Dale Leander